Capital Area Safety Council is a network of professionals in various industries with the goal of increasing safety awareness. The Capital Area Safety Council (CASC) was formed in 2004 and currently has more than 200 members. The council serves Central Ohio employers who are interested in promoting and improving worker safety that results in reducing workers' comp costs. In conjunction with the Ohio Bureau of Workers Compensation, the CASC holds regular monthly meetings to provide information on new techniques, products and services that improve and promote safe workplaces.
Sponsor of the Month: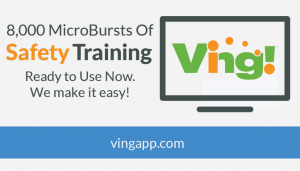 The Ving platform makes it easy to share, track and report on employees engagement with microbursts of safety training across any preferred method of communicating (e.g. text, email, portal, project management/work order management system, etc.).